Dr. Sergio Groman, Retina Specialist
Retina Surgery, Macula and Vitreous Specialist in Mexico (Retinologist)
---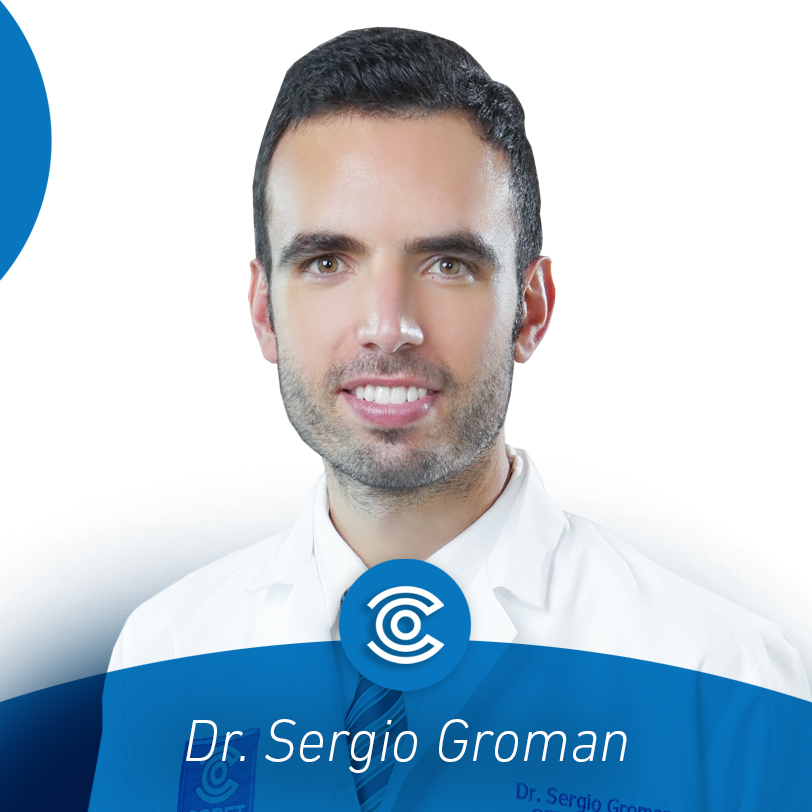 Dr. Sergio Groman is a Retina Specialist at CODET Vision Institute, in Tijuana, Baja California, Mexico. He is expert in Retina Surgery, Macula and Vitreous (Retinologist). Since 2019, he is the Retina Service Director at this institution.
Early Career
Dr. Sergio Groman earned a full academic scholarship to the School of Medicine at Universidad Anáhuac, where he obtained his Medical Surgeon degree in 2009. During his undergraduate internship, he participated in prestigious hospitals in both Mexico and the United States, such as Bascom Palmer Eye Institute and Jackson Memorial Hospital in Miami, FL, and the Instituto Nacional de Pediatría (National Pediatrics Institute) and the Instituto Nacional de Perinatología (National Institute of Perinatology) in Mexico City.
After finishing his internship, Dr. Groman participated in a health research social service program in the Research Unit at the Instituto de Oftalmología Conde de Valenciana. During this year, he carried out several basic research projects in Ophthalmology, with one of them earning him a Tyson Research Initiative Award from the Asociación Panamericana de Oftalmología (Pan American Association of Ophthalmology).
Preparation as a Retina Specialist
He undertook his Ophthalmology residency and Retina Fellowship at the Fundación Conde de Valenciana Ophthalmology Institute, an internationally renowned institute of the highest academic level (Retina Specialist). He also obtained his Master's degree in Science at the Universidad Nacional Autónoma de México (UNAM) and became a Ph.D. candidate.
Looking to broaden his education, Retina Specialist, Dr. Groman, obtained the Gillingham Fellowship Award from the PAAO and the International Council of Ophthalmology Fellowship Award in 2014. This allowed him to undertake a Fellowship in Rocky Mountain Lions Eye Institute at the University of Colorado in Denver for one year.
Returning to Mexico, he started his practice at the American British Cowdray (ABC) Medical Center in Mexico City and was in charge of the Retina Clinic in one of the largest public hospitals in the country, Dr. Manuel Gea Gonzáles General Hospital. He was also a full professor of Ophthalmology in the School of Medicine at UNAM, as well as for the Ophthalmology Residency course in Ophthalmology and for the Retina Fellowship Professor.
Now as a Retina Specialist at CODET Vision Institute, Dr. Groman's reputation and leadership in the field continues along the same successful path that he has followed for his entire professional career. He works closely with Dr. Arturo Chayet in areas of patient care, surgery, and innovation.
Professional Memberships & Affiliation
American Academy of Ophthalmology (AAO)
Association for Research in Vision and Ophthalmology (ARVO)
Pan American Ophthalmology Association (PAAO)
Mexican Society of Ophthalmology (SMO)
ABC Medical Center Medical Association
Ángeles Lomas Hospital Medical Society