Town Hall: Strengthening the CODET Culture 
This Town Hall held immense importance as it provided a unique opportunity to reinforce the CODET culture in all its aspects.
On June 28th, the Dr. José V. Chayet Auditorium buzzed with excitement as CODET Vision Institute hosted its much-anticipated quarterly Town Hall meeting. After enduring a long period of restrictions due to the COVID-19 pandemic, all employees were finally able to come together again.
This Town Hall held immense importance as it provided a unique opportunity to reinforce the CODET culture in all its aspects. During the gathering, the challenges faced by the institution since the beginning of the pandemic were addressed, along with the progress made on projects aimed at enhancing the patient experience within the institute. Additionally, the meeting shed light on the goals set to achieve by year-end.
The event was organized by CODET's management team, comprising CEO, Director of Business Development, Director of Operations, Director of Finance and Administration, along with the Human Resources department.
The agenda kicked off with motivating words from CEO, who expressed his delight at being able to reunite for such a meaningful event after a long hiatus.
Furthermore, the event introduced new faces to the CODET team. The 2023-2024 fellowship cohort was presented, and the new collaborators who joined CODET in 2023 were introduced, providing them with the opportunity to get acquainted with their colleagues.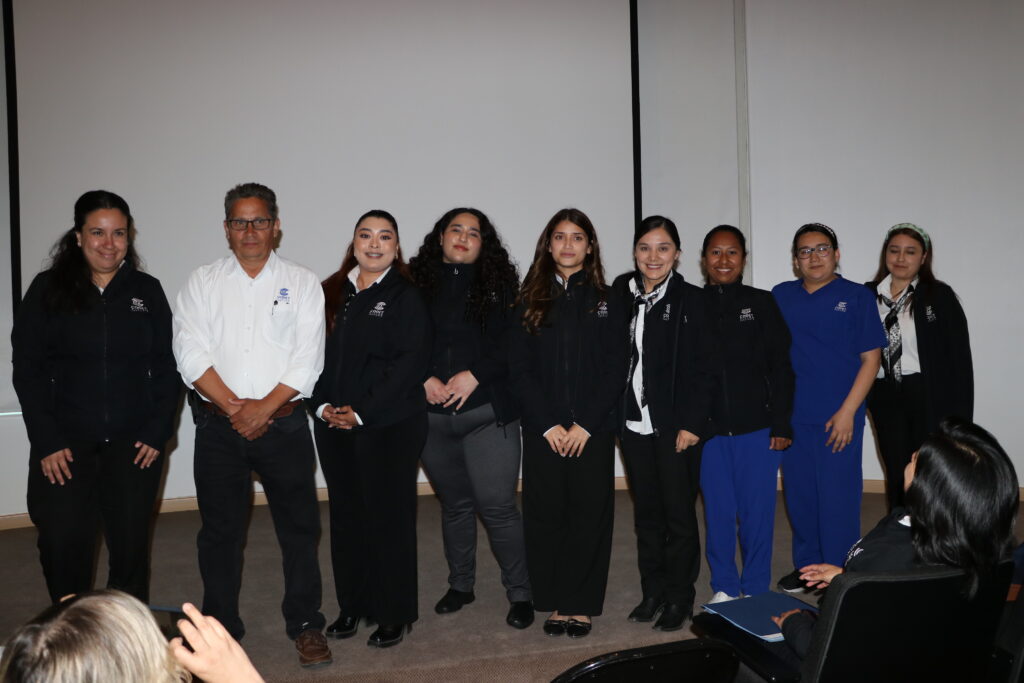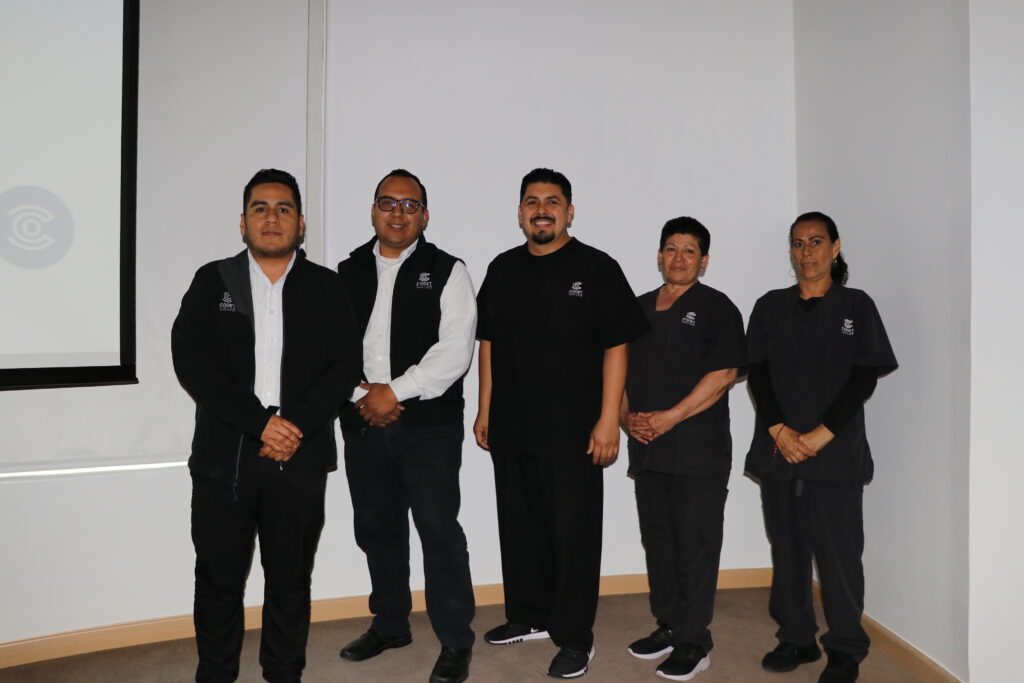 A notable highlight was the warm welcome extended to Dr. Erik Navas Villar, formerly a CODET fellow, who now joins CODET's medical team as Co-Director of the Cornea Service, Director of the Middle Segment Service, and Adjunct Physician of the Anterior Segment and Refractive Surgery. His addition further bolsters the medical team's capabilities and promises to elevate the excellence of healthcare provided by CODET.
The event also recognized standout employees for both January-March and April-June periods. The winners were chosen by their peers for embodying CODET's core values: responsibility, urgency, ethics, hygiene, warmth, and innovation.
Winners for the first quarter – January – March 2023:
Aracely Cota – Operating Room Nurse (1st place)
Jorge Sandoval – Chayet Vision Operations Manager (2nd place)
Dulce Rangel – Biomedical Maintenance (2nd place)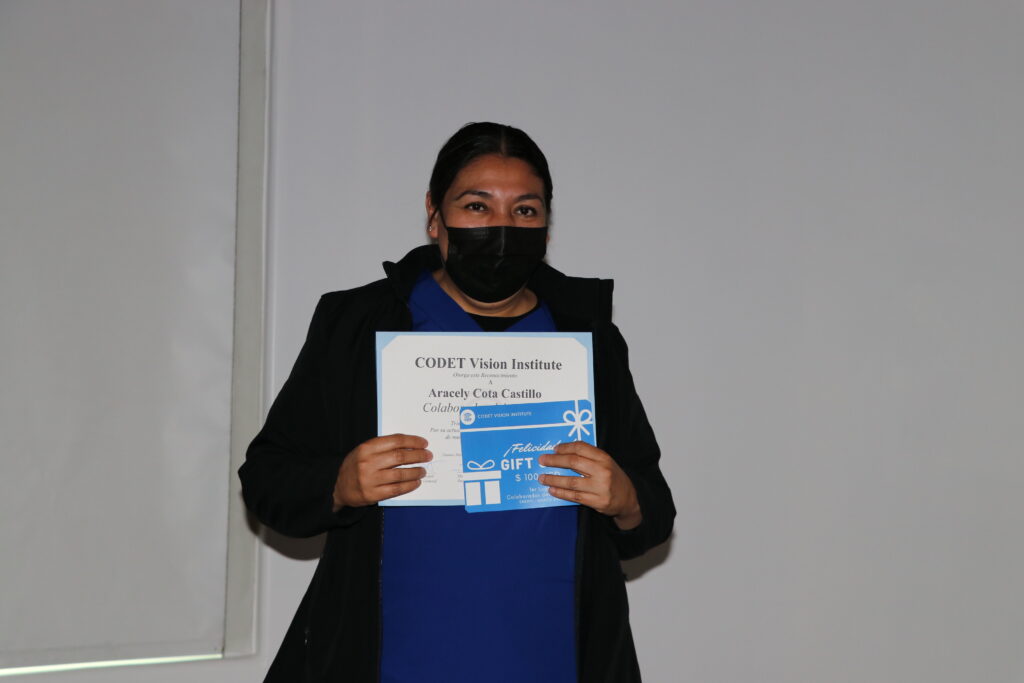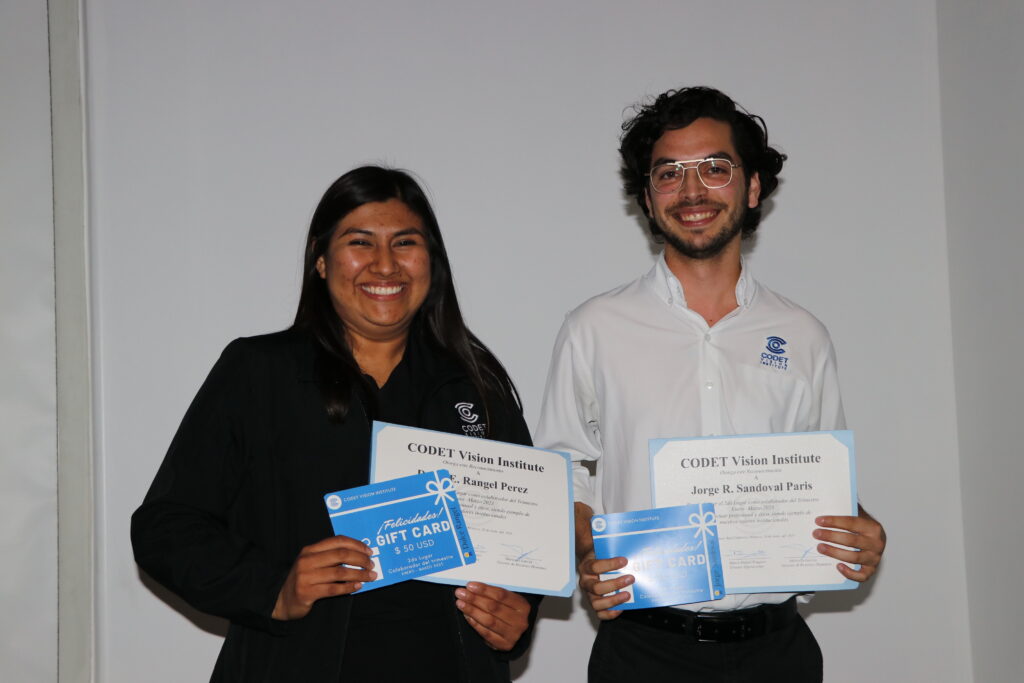 Winners for the second quarter – April – June 2023:
Cristina de la Cruz – Operating Room Nurse (1st place)
Alicia Cárdenas – 2020 Café Chef (2nd place)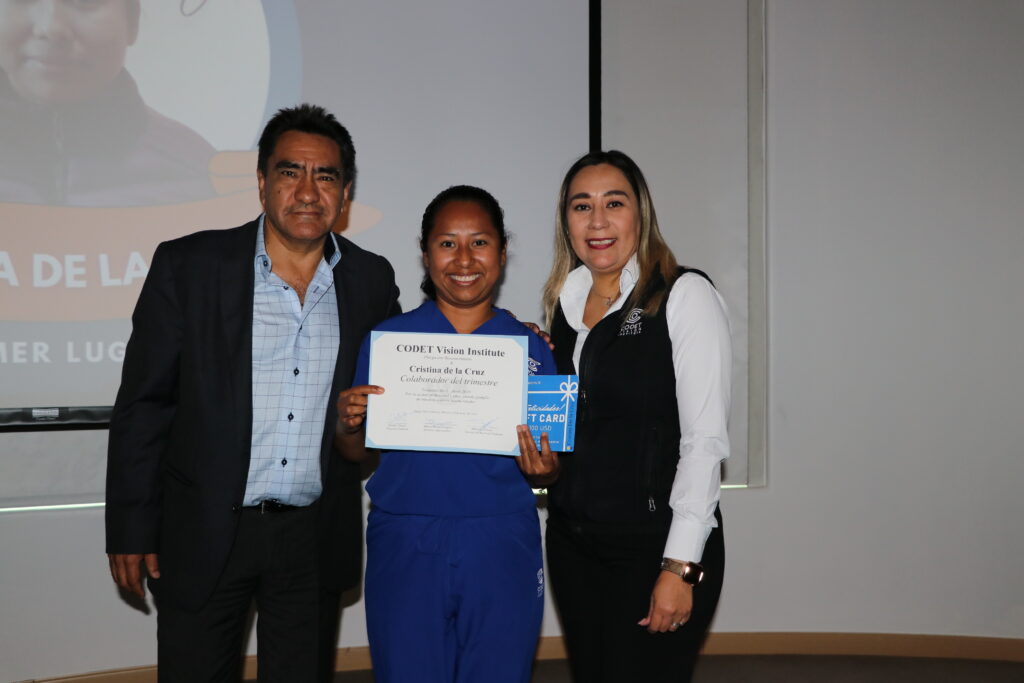 The CODET Town Hall was a resounding success, culminating in a delightful gathering where all collaborators mingled, shared food, and drinks.
This event marked a milestone in the culture of CODET Vision Institute, reaffirming its commitment to excellence in healthcare and continuous growth. The CODET culture thrives thanks to the dedication and efforts of all its collaborators, and this Town Hall reaffirms the path toward a prosperous future for the institution.